Have the convenience of Greencane Paper delivered to your door.
We currently deliver to all non rural North Island & Christchurch City addresses.
For rural delivery & rest of South Island please contact us on buynz@greencane.com.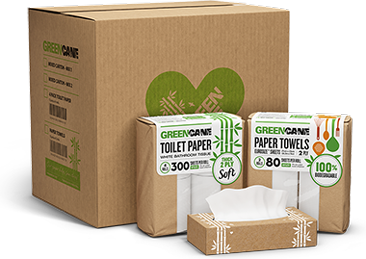 Mixed Carton
32

Rolls of Toilet Paper

(8 packs of 4 rolls)

6

Rolls of Paper Towels

(3 packs of 2 rolls)

3

Boxes Facial Tissues
How we stack up in terms of value...
Carton of Toilet Paper

Total 48 rolls

12 packs of 4 rolls.

Each roll 300 sheets, 2 ply.

Carton of Paper Towels

Total 24 rolls

12 packs of 2 rolls.

Each roll 80 sheets, 2 ply.

Eurosize:

21cm x 23cm (8.2in x 9in)

Carton of Facial Tissues

Total 24 boxes

Each single box 90 sheets, 2 ply.

Carton of Facial Tissues

Total 20 packs

Each pack 100 napkins.

Luncheon size:

33cm x 33cm (13in x 13in)