Have the convenience of Greencane Paper delivered to your door.
We currently only deliver to mainland UK. Delivery to Ireland not yet available.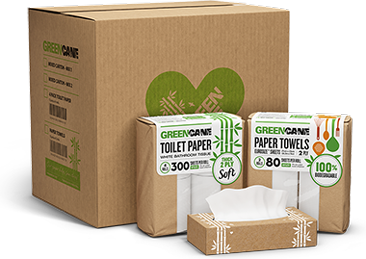 Mixed Carton
32

Rolls of Toilet Paper

(8 packs of 4 rolls)

6

Rolls of Paper Towels

(3 packs of 2 rolls)

3

Boxes Facial Tissues
How we stack up in terms of value...
Carton of Toilet Paper

Total 48 rolls

12 packs of 4 rolls.

Each roll 300 sheets, 2 ply.

Carton of Paper Towels

Total 24 rolls

12 packs of 2 rolls.

Each roll 80 sheets, 2 ply.

Eurosize:

21cm x 23cm (8.2in x 9in)

Carton of Facial Tissues

Total 24 boxes

Each single box 90 sheets, 2 ply.

Carton of Facial Tissues

Total 20 packs

Each pack 100 napkins.

Luncheon size:

33cm x 33cm (13in x 13in)